How colleges admit students to majors – will you be ready to decide?
Every fall I get an onslaught of students and parents looking for quick guidance on selecting a college major – many are in a state of panic. Why?
As students begin completing college applications, they are faced with the image below (or similar) and suddenly feel behind.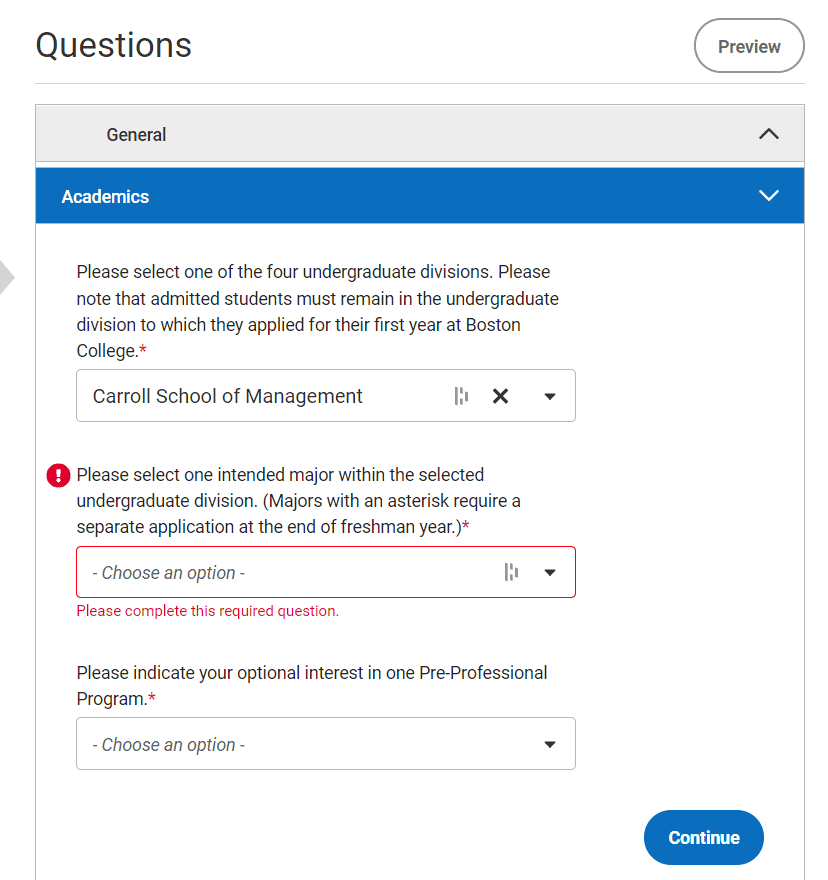 How colleges admit students
Like most things in college admissions, there are a wide variety of approaches to admitting students. Among the approaches are admitting:
By major
To the college within the university for instance the College of Engineering or the Arts and Sciences college
To the University as a whole where you'll later decide and be admitted to your major after you've started
Are you locked into a college major?
As in the case of the Boston College application screenshot above, BC admits to the college and specific major and expects students to stay in the college they are admitted to for a full year. However, students can move among majors within the college. Or if they want to switch to a major outside of the college to which you were admitted, you can do so after freshman year.
Generally, it is easier to make any change, and specifically broad changes, at liberal arts colleges. Liberal arts colleges are not necessarily politically liberal – many students make the mistake of assuming so. Instead, they are focused on a general approach to growing a well-rounded student with broad academics instead of technical or vocational preparation such as fields like engineering and nursing.
Boston College (not a liberal arts school) allows students to wait to declare their specific major in their college with the exception of engineering and nursing. However, as stated on the BC website, there are some years when it's limited or impossible to switch between colleges. There are some majors known to be notoriously difficult to both transfer into after the student has started college and these same programs are challenging to finish in four years if not started in the freshman year. In a webinar I hosted earlier this year, we discussed majors where it's best to declare while still in high school.
Our friends at College Transitions took the time to evaluate how easy or difficult it is to change into an engineering major after the freshman year has begun. They also found in their research that…
"Large flagships like the University of Texas at Austin, the University of Michigan, or the University of Wisconsin-Madison as well as large private research institutions like Cornell University, Boston University, or Washington University in St. Louis, require you to apply directly to certain schools or colleges. For example, Dyson (Cornell), Questrom (BU), and Olin (WashU) business schools are all "direct admit" institutions, meaning that students apply specifically for entrance into that school."
Schools with more flexibility to change majors
As mentioned earlier, liberal arts schools generally make it easy to change majors. Ivy Scholars did some research on this topic with great notes for the "top 50" schools in the country. Personally, I don't coach my clients to think in terms of college rankings, but instead the academic, financial, and personal fit. Still, the post by Ivy Scholars gives some good insight into not only how challenging it can be, but the nuances reflected in the notes they provide.
I concur with their finding that the more selective a major is at a particular university, the more challenging it can be to switch into the program after being admitted. For instance, at Johns Hopkins University it's difficult to change schools within the university but easy to change majors; however, the one exception is no one can ever transfer into biomedical engineering after application.
Questions to ask the colleges about changing majors
Does your university admit students to the university, a college within the university, or to a specific major?
Are there any majors at your school where internal transfers aren't permitted?
Where can I find the academic requirements to be eligible to apply to change majors?
Are all students who meet the academic requirements to change majors permitted to do so or are those just the minimums with no guarantee?
Last year, how many transfers into _______(fill in the blank) major actually were granted? How many students requested to do so?
Advice from Flourish
Ask the right questions of the colleges before finalizing your list of colleges for application and as you do so keep in mind how certain you are of your intended major. If it's time to hit submit and you aren't certain of your major, be sure you are applying to schools with flexibility that fits your situation.
If you are reading this before you've paid a deposit to a college or have started college, do the work to get college major clarity while you are still a high school student. The resources for high school students to do the necessary work are the same as college students, so do the work before making major decisions. We recommend you join us in our Launch Career Clarity Course the next time it opens.